Launch Conference of the Programme CZ06 – Cultural Heritage and Contemporary Arts (Invitation)

Published
Updated 24-1-2014

Updated Enclosure - Final programme for Launch Conference of PRG CZ06
Invitation: Launch Conference of the Programme CZ06 – Cultural Heritage and Contemporary Arts within EEA Grants 2009 - 2014
Ministry of Finance as the Programme Operator of the Programme CZ06 - Cultural Heritage and Contemporary Arts cordially invites you to the Launch conference of the Programme, which takes place in Prague on 5th February at 15.00 in palace Žofín.
EEA Grants 2009 -2014 will contribute in the following two years with an allocation exceeding half billion Czech crowns to the protection of Czech cultural heritage and contemporary arts in the field of professional theatre, dance, music, visual and performing arts.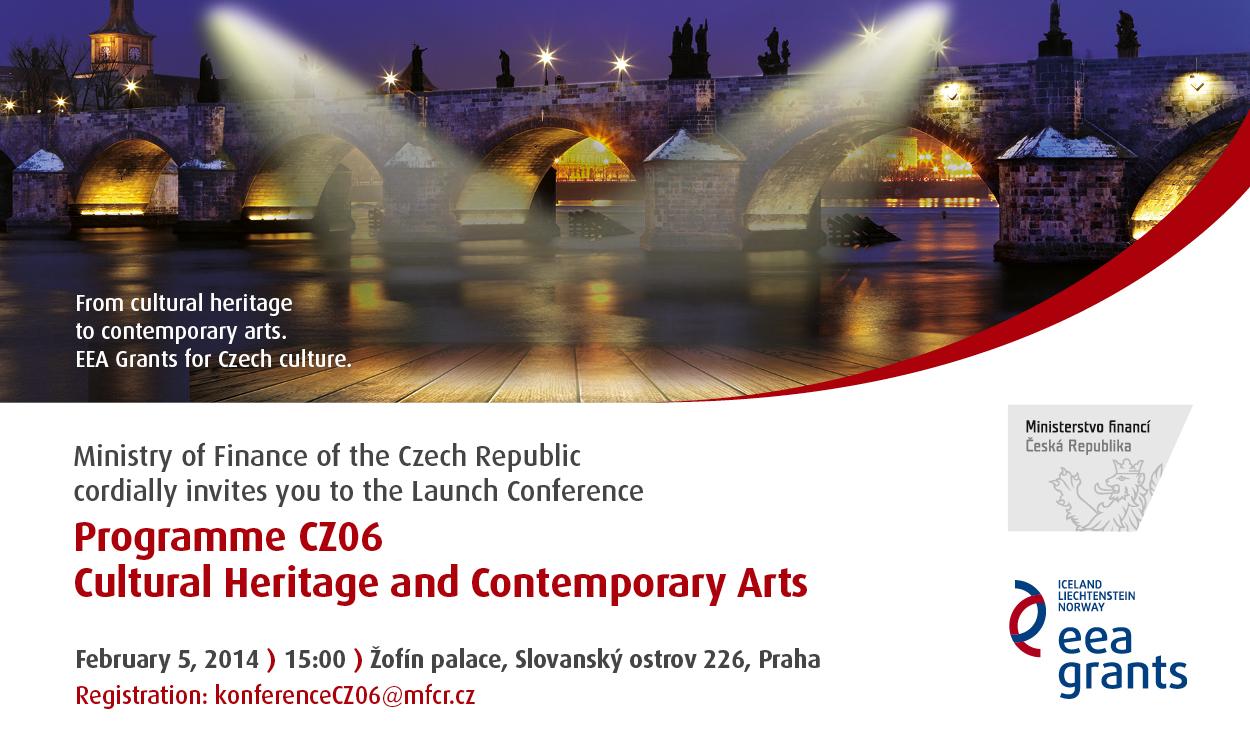 The main goal of the Launch conference is to present the Programme to the potential applicants, donor state partners (Iceland, Liechtenstein, Norway) and professional public. Press conference will be organized during the conference.
The Final programme of the Launch conference is in the attachment.
Downloads
The priority of EEA Grants 2009-2014 is to strengthen bilateral cooperation between entities from the Czech Republic and entities from Iceland, Liechtenstein and Norway. The bilateral cooperation is supported in this Programme both in the area of protection of cultural heritage and in the programme area focusing on contemporary arts, which mostly contains mandatory coproduction activities.
The Launch conference therefore provides excellent opportunity for informal meetings with potential donor state partners. The Launch conference continues as an informal social event in Museum Kampa (U Sovových mlýnů 2, Praha) at 19.30.
Further details about the conference including the final programme of the event will be published in upcoming days on this webpage.
Due to the limited capacity, please register at konferenceCZ06@mfcr.cz until 29th January at the latest. Please, include your name, institution and your interest to attend the informal social event in the evening.
In case, you are interested only in the participation at the informal social event in the evening, please send your specification at Suzana.Jovasevicova@mfcr.cz until 29th January. Priority is given to participants of the Launch conference and participants of the contact seminar, which is organized by the Ministry of Culture – Programme Partner on 6th February 2014.
Further information about the Programme CZ06 – Cultural Heritage and Contemporary Arts is available at the web page of Programme Partner CZ 06.