On 2 September 2021, an online seminar was held for applicants interested in the open call "Innovative use of movable and immovable cultural heritage" (CH2).
The seminar presented the open call, the different stages of the evaluation process, the CEDR information system and the registration procedure. Applicants also received recommendations for the preparation of the grant application according to the structure of the form in the IS CEDR, including the formulation of the project purpose, project activities and budget and financial set-up.
At the beginning of the seminar, examples of good practice of innovative use of cultural heritage from the Czech Republic were presented (Žďár nad Sázavou Castle, Český Krumlov Monasteries, Prague House of Dance Art in the former Branický pivovar), which can be used for inspiration.
Approximately 50 grant applicants attended the seminar. For those who could not attend the seminar, all presentations are available in Czech on the Czech site.
A video recording from the seminar is available (only in Czech) below and here.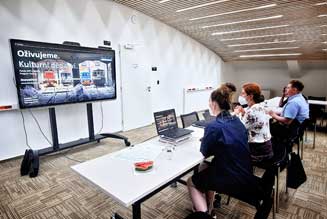 Play video